Rubber Cloth-Inserted Sheets, Hole Punched Tank Strips, Seals, Gaskets, Diaphragms, Cable Grommets, O-Rings
Molded and Fabricated Nitrile Rubber (Buna-N), EPDM, Viton, Silicone, SBR, Natural Rubber, Polyisoprene NR Sealing Parts
Custom Neoprene, EPDM, SBR, NR rubber tank strips, gaskets, diaphragms, protective tubes, nylon sheets, and insulation parts for oil&gas, automotive, food, chemical, electronics, home appliance, construction, and shipbuilding applications.
We offer design, fabrication, reverse engineering, rapid prototyping, and mass production and supply of custom and off-the-shelf extruded, molded, and fabricated custom rubber products.
Seals, gaskets, and sheets are available in commercial grade, FDA grade, and high grade.
Extruded rubber sheets and double-sided punched tank strip seals come in slit-to-width rolls of rubber with holes punched at precise uniform intervals.
Rubber sheets are available from 0.4 mm thickness (0,01") and up to 48" length and can be custom cut to a variety of strips and shapes. Rubber sheets go through halogen treatment to prevent stickiness and ensure long service life.
Fabricated and Molded Rubber Gaskets, Tank Strips, Seals, Sheets Overview
Reliable manufacturer of high quality rubber products for the industrial, petrochemical and chemical, oil&gas, food processing, automotive, home appliance, paper, mining, steel, electronics, and OEM projects to name a few.
We offer a broad range of rubber sheets, tank strip seals, rubber gaskets, O-rings, bushings, protective tubes, cable grommets, diaphragms, insulation products, and seals in a wide variety of materials (Neoprene, EPDM, SBR, Natural Rubber, Polyisoprene NR, Buna-N (NBR), Fluorosilicone (FVMQ), silicone rubber, Viton, sponge rubber, foam), of various thicknesses and widths. Available materials include FDA approved, chemical resistant, fire-retardant, and industrial grade.
Produced in S. Korea, our rubber sheets and molded gaskets have been exported to North America and Europe for 20 years. We value our long-term relationships with clients and thrive to constantly improve quality and price of our rubber products.
Rubber Seal, Gasket, Tank Strip Manufacturing Capabilities and Quality Control
We design, guide, fabricate, reverse engineer, and produce prototypes of custom and off-the-shelf rubber products, including rubber sheets and cloth-inserted rubber sheets, tank strip seals, molded rubber parts, cable grommets, diaphragm, tunnel sealing, protector tubes, wire spirals, and soft foam rubber seal flex molded parts.
Our manufacturing facility is equipped with the state-of-the-art equipment allowing us to supply the highest quality products available on the rubber market, eliminating such common product issues as uneven thickness, under-curing or over-curing, and poor cutting trim quality.
Our facilities met ISO 9001:2015 Quality Standard and hold numerous product quality certificates to meet stringent quality requirements. Strict quality control protocol is essential for the production of commercial, high-quality, and premium grade rubber products used for challenging applications such as appliance, electronics, aerospace, and automotive.
Additionally, we have established a systematic quality assurance protocol and maintain a full range of process control and quality assurance inspection equipment. All rubber products are thoroughly inspected at every stage of the production and assembly process to ensure excellent quality and compliance with every industrial standard required to be met. Product design process includes passing through the Failure Modes and Effects Analysis (FMEA) for product design confirmation and evaluation of possible design faults. We offer full data transparency and detailed documentation.
Rubber Tank Strip Seals and Molded Parts Product Portfolio
Insertion Rubber Sheet
We offer 490 combinations of rubber sheets in trimmed rolled rubber sheets of 36″-48″ width as standard rolls. The thinnest available fabric reinforced rubber sheets with insertion are 0.4mm thick. Rubber sheets go through halogenation treatment process to ensure durability, even thickness, and to prevent stickiness. EPDM rubber sheets are used in the toughest industrial environments and in chemical resistance requiring applications.
Insertion Rubber Sheet Properties
Features: dust-proof, sound absorption and oil-resistance
Available color: black; other colors available per request
Thickness: 1/64" ~ 2″
Length: 25ft ~ 100ft
Width: 36~48″
Length, hardness, and color can be customized
Materials: EPDM, Neoprene, NBR, SBR, Silicone, Butyl, Viton, Hypalon, Gum, IRC Nylon
Special Rubber Sheet
Heat, chemical, weather, abrasion, oil-resistant rubber sheets are used for gasketing, packaging, and insulation applications.
Cloth-Inserted Rubber Sheet
Cloth-reinforced Neoprene(CR) and NBR rubber sheets improve material stability and ensure product durability.
Types of Inserted Cloths:
Cotton Fabric: 2~3 Oz, 8 Oz
Nylon Chafer: 450d/1, 840d/1, 1,890d/1
Belt Paper: EP125, NN#200
Materials: Neoprene(CR), NBR, EPDM, SBR
Water-Proof Rubber Sheet
EPDM water resistant membranes is a single-ply membrane provide excellent resistance to heat, steam, water; ensure durability and are used in a number of various applications from construction to food industries.
Types of Water-Proof Sheets: TEP(TPO), EPDM, CSM (Hypalon)
Pattern: one-sided, one-sided pattern, two-sided pattern
Thickness: 1 / 1.2 / 1.5 / 2.0 mm
Flame-Resistant Rubber Sheet
Neoprene fire-resistant rubber sheets prevent melting, dripping, and fire spread. Flame-retardant sheets meet international fire-resistance standards and have passed U.K. Warrington fire research and Korean Railroad research approval processes.
Fire retardant grade: UL 94-V0
Thickness: 1 ~ 25
Anti-Static Rubber Sheet
NBR high density technical grade anti-static rubber sheets are commonly used in the electronics and industrial plant applications for dissipating static or electrical charges.
Electric resistance: cover 107~109Ω/cm², Bottom 10³~105Ω/cm²
Thickness: 2 ~ 5mm
Corrugated Rubber Mat
SBR / IR footpath mats are used in high traffic areas including plant hallways, in-plant aisles, and construction sites.
Fire-retardant insulation
Thickness: 3 ~ 5 /20mm
Non-slipping flooring materials
Available colors: Black, Green, Blue, Red
Rubber Tank Strips with Punched Holes
EPDM, CR, NBR fuel tank seal strips are produced using microwave curing process. The strips feature strong plasticity, good elasticity, and resistance to compression, chemicals, aging, and ozone.
Fuel tank strap rubber seal gaskets come in 1.77″ width rubber strips with punched holes at regular intervals. The rubber tank strips are used as liquid tank gas sealants for prevention of metal-to-metal wear between the straps and gas tank due to vibrations. They are used in various industries, including food, chemical, and oil storage.
Product Features | Thickness, Hole Shape, Spacing, Materials 
Punching thickness is between 1/16~1/14". This process can be applied to thinner and thicker materials depending on client's requirements.
Standard and custom oval, square, or alternate hole shapes are available. Slit-to-width rubber rolls without any holes are available as well and vary between 25 and 300 foot lengths.
Dimensional tolerances run around +/-.015 inches for key dimensions: width and hole diameter.
Available materials: Nitrile (Buna-N), EPDM, Silicone, Viton, non-rubber gasket sheeting.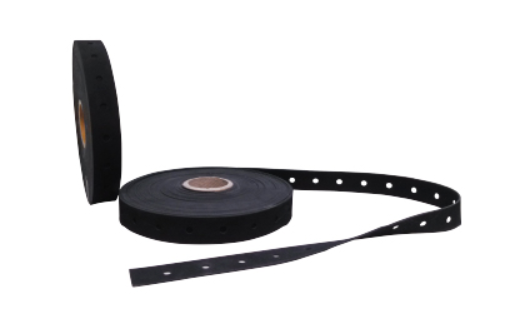 Molded Rubber Parts
We supply over 200 types of rubber molded parts globally. As a leading manufacturer of molded rubber products, we offer an extensive set of tooling for a wide range of standard and custom shapes and profiles. Relying on our long history and experience, we are able to offer standard parts with some modifications and apply in-house manufacturing capabilities to adjust and modify the required part to meet your specifications.
Industrial grade gaskets for machinery and plant applications for abrasion prevention. Produced using either rubber sheet punching method or compression molding. Molded sealings are available.
Diaphragms are flexible seals used for prevention of unwanted transmission of substances (liquids, gasses, steam, chemicals) between two sections of production and processing automotive, home appliance, oil&gas, and medical equipment. They are formed into flexible materials and forms.
Cable grommets for dust and water leakage prevention are available in two types: 1) GD&GDM, complies with the UL 94 V0 standard for the highest grade of the fire-retardant material classification. 2) EPDM cable grommet for reliable insulation and weather resistance insulation.
High pressure Buna (Nitrile), EPDM, Viton O-rings in standard and custom configurations for ultimate high sealing performance in the demanding applications: OEM, food and beverage, aerospace automotive, home appliance, chemical, and oil&gas.
Our Process | Rubber Molded Parts Sheets, Gaskets, Tank Strips
Complete in-house design, fabrication, quality control, prototype samples production, and reverse engineering capabilities significantly shorten our lead time. Based on the available 2D or 3D drawing or complete part, we are able to offer a prompt design review and mass production solution.
Inventory of available materials; assistance with design and manufacturing process review.
Product design assistance for custom parts for demanding applications, including aerospace, oil&gas, and chemical.
Extensive quality control procedures to meet customer's strict tolerances.
With years of experience, strong technical expertise, excellent quality, and superior customer service, we continue building relationships with global companies.
Production Equipment | Rubber Tank Strips, Sheets, Molded Parts
Insertion Rubber Sheet Facilities
Kneader (75L)
Rubber & Silicone Calenders, (18inX4Units)
Mixing Mill (18in)
Five sets of Roto Cures
Three sets of 2,000 Ton Press
Precision Parts Manufacturing and Large Molded Parts Production Equipment
Injection Press (2000cc)
Vacuum Press (250 Ton)
Automatic Press (150 Ton)
1400 Ton Press (1.5MX2M)
C-TYPE LONG AXIS Press (3,200L)
3500 Ton Press (3.3MX3.3M)
Molded Rubber Tooling
Over 3,000 sets of customized Tooling & components.
Quality Control Inspection Steps | General
Rubber Inspection Process:
Edges & sides clean cutting
Thickness
Surface & Color
Dimensions & Hardness
1ply insertion
Tearing length side
Total quantity check
Container seal check
Lab Testing Equipment
Universal Tester
Rheometer
Mooney Viscosity
Heat Resistance Test
Ozone Resistance Test
Abrasion test
ED-XRF
Low Temperature Test
Rubber Sheet Production Process Video