Precision Die Tooling Manufacturer
Near-Net-Shape Forging Dies and Progressive Dies
LPR presents the forging and progressive tooling capabilities of Korean die manufacturers, who produce near-net-shape and net-shape forging and stamping dies. All of our die manufacturers provide superior quality tooling and competitive lead times, sharing one common quality: high precision level of dies, which minimizes additional machining processes and loss of material.
Our customers include global leaders in the automotive, power plant, ship building and machinery industries. Each of our manufacturers has extensive experience with die making since the early '80s, and is certified to ISO9001, ISO14001 and TS16949 standards.
Progressive Dies, Transfer Dies, Cold and Warm Dies
Our manufacturing facilities are not only equipped with the best technicians, engineers and equipment, but are also flexible with clients' requests for lead time, testing requirements, pattern management, and material and marking systems for tracking. Tooling and mold & die manufacturing capabilities include cold and hot press stamping dies, transfer dies for mass production lines, and progressive dies.
We have 8 different die manufacturing facilities in South Korea, each with their own specialty based on industry-specific knowledge and experience. As a result, we can provide a wide range of customized tooling solutions for various applications.
Cold Forging Dies
Known for its high precision and use with high strength materials, cold forging is deployed under normal temperatures through a multi-level press process: forging press, header and former. These cold forging dies achieve forming results of net shapes or near-net shapes. Customers can reduce costs using our high precision cold forging dies, which minimize material loss and additional machining processing.
Cold forging die sets are available as regular or enclosed types, and spring or hydraulic types. Popular applications include automotive components such as transmission bevel gears, steering pinions, CV joints and fasteners. Enclosed die sets are used to make products such as cross joints and inner race.
Warm and Hot Forging Dies
Our warm and hot forging dies are made and tested by experts with an advanced understanding of die material properties and hot forging die users' environments. Knowledge of the operating environment is critical for hot forging die manufacturers in order to make long-lasting dies. We have experience dealing with high thermal combats, mechanical strain, whorled loading, and corrosion during the hot forging process. This expertise prevents die deformation and increases product life while providing superb quality of dies. Our die set assemblies can easily form various shapes and sizes, including intricately shaped products. They are particularly popular with forging product manufacturers for creating precise tooth shapes.
High Precision Stamping Dies
Stamping technology has evolved based on the material strength and elongation of stamped parts. Enhanced passenger safety requirements by automakers have led car body frame and body-in-white component manufacturers to develop materials with the least deformation in the event of unfortunate car accidents. High strength steels up to 1180MPa tensile strength are used for the automotive body and structures. We design, produce and test many kinds of quality stamping dies and tooling that meet customers' requirements, using high strength steels and hard-to-form materials.
Our advanced stamping die technology reduces the number of stamping and machining processes required. For example, we recommend 5 stamping die sets for automotive crossmember assembly rear kick-up components: Blank (common left and right), Form, Pierce, C-Form and Restrike, and Burring and C-Piercing.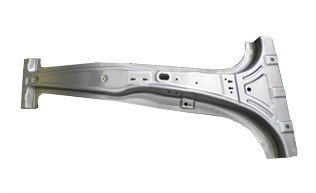 Progressive Dies for Automotive Body Frames & Electronics
Using state-of-the-art forming simulation software and 3D modeling design software, our progressive die facilities can provide clients with simulation files in a timely fashion for evaluation of our progressive die designs and quotations. We take a leading role during the customer's die development phase, helping them achieve material savings of 50% due to our technical know-how and designing capabilities. We have equipped our manufacturing site with a wide range of machines, and can easily accommodate requests for factory tryout of progressive dies.
Progressive Die Applications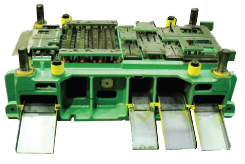 | Equipment | Capacity |
| --- | --- |
| 1500T Mechanical Press (2500x4000x1200) | 1,500 ton |
| 1200T High Speed Hydraulic Press (2600x3600x1200) | 1,200 ton |
| 1200T Mechanical Press (1800x3000x1150) | 1,200 ton |
| 1200T Hydraulic Press (2400x4000x1250) | 1,200 ton |
| 600T Mechanical Press (3000X1800X1100) | 500 ton |
| 100T Die Spotting Press | 100 ton |
| MCR-A5CⅡ High Speed Machine (3000x5000x1600) | Unit 30 |
| MCR-A5CⅡ High Speed Machine (2650x4000x1600) | Unit 26 |
| SB-316 High Speed Machine (1700x3000x1100) | Unit 16 |
| CNC Boring Machine (2350x4000x1400) | BP-13B |
| CNC Machine (950x2400x900) | VM960 (2400×950) |
| CNC Machine (950x2400x900) | VM925 (2400X950) |
| MCR-20 High Speed Machine (2200x4000x1600) | Unit 20 |
| 5 Axis Machining Center | Unit 22 |
| 5 Axis Machining Center | Unit 24 |
| Laser Scanner & CMM | 3.5m radius |
| Electric Heating Furnace | 90kwh |
| Electric Heating Furnace | 80kwh |
| DEA ALPHA CMM (4200x3640x3555) | Gantry type |
| 2D laser cutting machine | 4kW |
| 3D laser cutting machine | 1.5kW |
| Infrared camera for thermal imaging | 320*640 - 124~1,500 |
| Digital Height Gauge | 600 m/m |
Automotive Projects | Stamping Dies & Progressive Dies
Stamping Dies for Automotive Roof Components
Stamping Dies for Automotive Door Frames
Stamping Dies for Automotive Roof Rails & Parts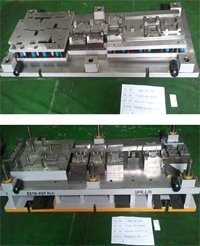 Stamping Dies for Automotive Center Floor Parts
Jig & Fixtures | Precision Tooling for CNC Machines
Refined Accuracy with Better Tooling
The knowledge we have accumulated over the years includes machine tools manufacturing. Rely on our machine tooling development services for enhanced productivity of your machine shops and machining centers. Leading companies such as Tsudakoma trust our machine tooling development solutions to ensure high quality manufacturing. The CNC machine tooling we can develop are for lathes, machining centers and grinders.
Engine Block Jig and Fixture Manufacturer