Precision Tooling Manufacturer
Stamping Dies, Cold Forging and Warm Forging Dies, Die-Casting Molds, Powder Compacting Molds, Jigs & Fixtures
We provide precision tooling for markets ranging from industrial parts, automotive parts production, to home and kitchen appliances. Our full range of manufacturing tools includes jigs & fixtures, stamping dies, cold forging dies, warm forging dies, die-casting molds, powder compacting molds for powder metallurgy, and thermoplastic molds (SMC, GMT, BMC, LFT) for composite parts production. We supply a full range of parts, including stamping dies, die cast sets, steel die sets, and transfer die sets.
The whole procedure of making the die sets are done in-house, starting from design engineering to manufacturing in ISO 9001 and ISO 14001 certified plants. Contact us to learn how our precision tooling can reduce your costs and improve quality.
Metal Stamping | Progressive Dies, Transfer Dies
To be competitive in parts manufacturing, companies need to minimize machine cycle time and employ well-designed long-lasting tool and die sets. Manufacturers can meet this challenge and stay ahead of the pack, with custom-designed die sets engineered to customer specifications. We test run die sets at our site, simulating our customer's exact facility environment.
Capabilities | Stamping Die Sets Manufactured & Supplied
Possible Metals Processed with our Stamping Die Sets
Stamping Die Set Applications
We have experience producing stamping dies for the automotive, kitchen & home appliance, and electronics industry. Our knowledge in various materials such as stainless steel and aluminum ensure that each part is formed correctly using our dies. Our dies are always thoroughly tested in-house before delivery to ensure that stamped metal components produced using our dies are always within part specifications.
Progressive Dies | Automotive Industry
Transfer Dies Manufacturer | Automotive Industry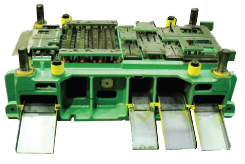 Manufactured Automotive Components
Automotive Chassis Brackets
Automotive Projects | Stamping Dies & Progressive Dies
Dies for Stamping Automotive Roof Components
Die Sets for Progressive Stamping
Dies for Stamping Automotive Door Frames
Die Sets for Progressive Stamping
Dies for Stamping Automotive Roof Rails & Parts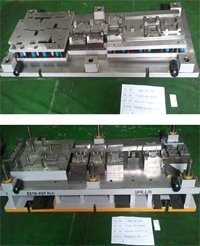 Die Sets for Progressive Stamping
Dies for Stamping Automotive Center Floor Parts
Die Sets for Progressive Stamping
Powder Compacting Molds & Dies | Powder Metallurgy
As a supplier of various powder compacting press technologies, we're also a provider of precision tooling including molds and dies for Hot Isostatic Pressing (HIP) and Cold Isostatic Pressing (CIP) powder compaction. Our advanced manufacturing technology is used to produce metal and ceramic compacted parts for global tier 1 companies in the automotive industry, aerospace industry, and energy industry.
Our experience with powder compacting presses, precision tooling, and powder metallurgy helps to ensure that manufactured parts using our technology have high density, minimal shrinkage, while avoiding sharp edges for near net-shape parts.
Jig & Fixtures | Precision Tooling for CNC Machines
Refined Accuracy with Better Tooling
The knowledge we have accumulated over the years includes machine tools manufacturing. Rely on our machine tooling development services for enhanced productivity of your machine shops and machining centers. Leading companies such as Tsudakoma trust our machine tooling development solutions to ensure high quality manufacturing.
The CNC machine tools we can develop are for CNC lathes, CNC machining centers, and grinders.
Engine Block Jig and Fixture Manufacturer