High-Speed Motor Spindles
High RPM Motor Spindles for Grinding Machines and CNC Machining Centers
LPR Global provides precision machine tool spindles with housing diameters of 30-230 mm and speeds up to 125,000 rpm for grinding, polishing, milling, and drilling machines.
We manufacture a wide range of custom motor spindles and belt-driven spindles using hybrid ceramic ball bearing, air bearing, and hydrostatic bearing designs.
Motorized spindles are widely used as replacements for the main spindle by CNC machine tool manufacturers and machine rebuilders. We serve major clientele in the automotive, semiconductor, aerospace and electronics industries, such as Hyundai, Delphi, Schaeffler, GMB, LG, Apple, and Samsung. Our ISO 9001-certified plant in South Korea invests heavily in developing long-lasting, high-performance bearings and shafts; it holds five patents related to spindle design.
We offer custom spindles for your grinding or milling machines. Surface grinding solutions, used in semiconductor, optical and medical industries, require spindles equipped hydrostatic bearing for extended life.
Machine Tool Spindles for Milling, Grinding, Drilling & Routing
LPR Global designs and manufactures customized motor spindles for a wide range of machining processes including milling, grinding, drilling and tapping, boring, engraving, and deburring. Hybrid angular contact ball bearings and air bearings are used to enable greater stiffness, longer service life, and faster speeds. Our engineers have 30+ years of experience producing powerful and reliable spindle designs, paying special attention to shaft strength, bearing lifespan, and minimizing vibrations.
We produce custom-built motor spindles with various sizes, torques, and speeds, suited for all applications such as high precision machining, mass production of parts, and testing and measurement systems. Our clients come from diverse industries like automotive, aerospace, mold & die, semiconductor, and industrial manufacturing.
If your machining projects require high static load and high torque and frequent change of your quill and tool interface, please check out our ball bearing spindle designs.

High Speed Motor Spindles for Bearing Testing Business Case
Ball Bearing Motor Spindle Features
Machine tool spindles in sizes 80 to 230 mm that we offer are used for milling, drilling, tapping and deburring. They contain hybrid ceramic ball bearings and built-in motors, providing a long service life and minimal vibration. Optional features include through-spindle coolant systems, oil mist lubrication, encoders, and temperature sensors.
Grinding spindles are available in housing sizes 30-230 mm, with a speed range of 12,000 to 75,000 RPM, and motor power up to 40 kW.
LPR Global's spindles are widely used by grinding machine manufacturers for cylindrical grinding, ID/OD grinding, fine surface grinding and tool grinding. Applications include grinding bearings, collets, wheel dressers, quartz and glass materials, automotive parts, and aerospace parts. We use hybrid ceramic angular bearings from GMN to ensure superior stiffness, rotational accuracy, and lifespan of the spindle for high load and torque applications.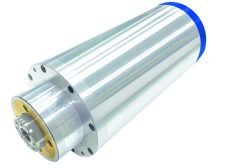 Model: SW110-W
Housing Diameter (mm): 110
Speed (max. RPM): 5,000
Taper: MT5
Tool Change: Manual
Model: SW100-284-R
Housing Diameter (mm): 100
Speed (max. RPM): 6,000
Taper: Straight
Tool Change: Manual
Model: SW180-6085-R
Housing Diameter (mm): 180
Power (kW): 8.5
Speed (max. RPM): 6,000
Taper: Straight
Tool Change: Manual
Model: SW120-8014-F
Housing Diameter (mm): 120
Power (kW): 1.4
Speed (max. RPM): 8,000
Taper: Straight
Tool Change: Manual
Air Bearing Spindles with Automatic pc6 and Manual Tool Interface ER11 Collet
Air Bearing Spindles are designed for high speed and high precision operations in clean environment such as PCB drilling, micro-milling for wafer fabrication, die finishing, CNC engraving and CNC routing. Clean, compressed air is pumped through the spindle, eliminating mechanical contact between the surfaces. This offers benefits such as reduced vibration, long bearing life, high rotational accuracy, large load capacity, and no contamination. Speeds of over 120,000 rpm can be achieved easily with superior accuracy and minimal heat generation. Our air bearing spindles are cooled by water, and bearings are lubricated by air bushings.
We offer 4 types of air bearing spindles; two types support manual tool interface of ER11 collect and the other two types support automatic tool interface of pc6.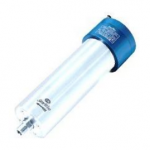 Model: SW62A-1005-E11
Housing Diameter (mm): 62
Power (kW): 0.5
Speed (max. RPM): 100,000
Taper: ER11
Tool Change: Manual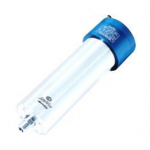 Model: SW62A-1251-E11
Housing Diameter (mm): 62
Power (kW): 1.0
Speed (max. RPM): 125,000
Taper: ER11
Tool Change: Manual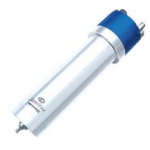 Model: SW62A-1005-PC6
Housing Diameter (mm): 62
Power (kW): 0.5
Speed (max. RPM): 100,000
Taper: PC6
Tool Change: Automatic
Model: SW62A-8012-PC6
Housing Diameter (mm): 62
Power (kW): 1.2
Speed (max. RPM): 80,000
Taper: PC6
Tool Change: Automatic
Custom Milling and Grinding Spindles
We design a wide variety of custom spindles based on our customers' requirements. The list below showcases some of our popular designs that are mass-produced in our plant in South Korea.
CNC Spindle Videos | High Speed Grinding, Milling, Drilling & Tapping
Cylindrical Grinding Spindle
High Speed Milling Spindle
Drilling and Tapping Spindle
Copyright © 2022 LPR Global. All Rights Reserved. High Speed Spindles