Hybrid Stepper Motors | Optimized Winding and Torque
High Torque Stepper Motors for Medical Imaging Equipment, Factory Automation, Fluid Control Actuation | Planetary and Spur Gears
Our synchronous hybrid stepper motors are manufactured to improve equipment performance that relies on precise positioning and speed. They are ideal for motion control applications requiring high torque, accuracy, power, and repeatability for high- to low-speed movements.
Advantages of our hybrid stepper motors:
Combined benefits of permanent magnet stepper motors and variable reluctance motors
Offered in both unipolar and bipolar phases with 1.8° standard step angles
Standard and custom rotary frame sizes, including NEMA 16, NEMA 17, NEMA 23, and NEMA 24
Customizable dynamic torque settings
Exceptional reliability across various torque settings
Our design engineers provide custom motor specifications optimized to each client's needs, including speed motor frames, motor lengths, shaft size and lengths, electrical configurations, windings, leads, and connectors. We provide holistic specifications because most of our global clients require hybrid stepper motors for new equipment R & D projects. As a result, we specialize in helping clients find the right stepper motor for their new equipment needs.
We are a global supplier of rotary hybrid stepper motors to manufacturers in diverse applications. Our stepper motors are used in applications such as multi-axis CNC machinery, robotics, process automation systems, automotive components, electronic banking machines (ATMs), medical 3D scanning devices, medical analyzers, optometry equipment, and 3D printers across North America, Europe, and Asia.
Hybrid Stepper Motors for High Holding Torque Motion Control
Hybrid Stepper Motors, a type of DC synchronous motor with precise angular control and high torque, plays a critical role in motion control systems. LPR Global's hybrid stepper motors are manufactured in Korea for long service life. Our rugged brushless designs ensure that the motors require virtually no maintenance, making them suitable even in high-temperature environments.
Synchronous hybrid stepper motors combine the best features of PM and VR stepper motors. Their powerful internal permanent magnet rotors ensure constant speed, while the multi-toothed stator poles allow precise positioning without the need for an additional encoder or sensor. Without the need for additional components, our stepper motors reduce production costs for our clients when compared to servo motors. Our hybrid stepper motors are also equipped with low resistance windings in 2 phases, compatible with DC power supply for high speed and high-performance ball bearings.
Ultimately, our designs are optimized for accurate and reliable rotary motions. LPR Global's stepper motors are best-in-class for mechanical and electrical sturdiness, improved holding torque, and repeatability of movement.
Hybrid Stepper Motor Models | Low to High-Speed Applications 
We specialize in hybrid stepper motors with square or conventional round bodies. Each motor is equipped with a mounting flange with tapped holes in each corner for secure fastening. Our comprehensive stepper motor product line includes unipolar stepper motor drives for high-speed performance and bipolar stepper motor drives for increased torque and high-efficiency applications. We offer hybrid stepper motors with planetary gear configuration for high holding torque, as well as spur type gear configuration for applications requiring lower holding torques.
All our hybrid stepper motors operate with low noise, minimal vibration, and reduced resonance for smooth motion. These advantages make our stepper motors ideal for precise motion control required by automated pick-and-place robotics, laser cutters, and medical equipment. Our motors operate through open-loop control systems and eliminate the need for optical encoders or position sensors. They are also compatible with closed-loop control systems for exceptional performance.
NEMA 17 (42 mm) | 42Q Series for Medical 3D Printers, Scanners and Ophthalmic Diagnosis Equipment
Our NEMA 17 hybrid stepper motors from our 42Q series are compact in size, and designed to be used for limited space. This makes them excellent for applications in robotics and process automation, 3D printers or prototype machines, digital dental photography devices and smaller CNC machines.
Unipolar drive torque range from 18 Ncm to 39 Ncm
Bipolar drive torque range from 24 Ncm to 49 Ncm
3 diameter options ranging from 34 to 48 mm
Available with planetary gears or spur gears, depending on the torque required
For more information about our NEMA 17 stepper motors, view the 42Q Series product datasheet for the complete model list and Torque/Speed Curve data.
Phases: Unipolar & Bipolar
Holding Torque Range: 18-49 Ncm
Motor Length Range: 34-48 mm
For Amplified Torque and Improved Acceleration
The NEMA 17 hybrid stepper motor from our 42Q Geared series with add-on gearbox options of 1/10 and 1/18 gear ratios.
Phases: Unipolar & Bipolar
Holding Torque Range: 58.84 Ncm
Motor Length Range: 54 or 56.5 mm
Step Angle: 0.10 or 0.18
Our robust NEMA 23 hybrid stepper motors from our 56Q series provide high power density and high accuracy. As a result, they are ideal for applications in 3D printers, CNC machines, pick-and-place equipment, laser cutters and linear actuators.
Unipolar torque range from 39 Ncm to 52 Ncm
Bipolar torque range from 55 Ncm to 185 Ncm
Available in 3 motor body diameters
Available with spur gears or planetary gears, depending on torque required
Find out more about the NEMA 23 hybrid stepper motor range in the 56Q Series datasheet.
Phases: Unipolar & Bipolar
Holding Torque Range: 39-185 Ncm
Motor Length Range: 42.5-76.5 mm
For Amplified Torque and Improved Acceleration
The NEMA 23 hybrid stepper motor from our 56Q Geared Series with 1.8° step angle.
Phases: Unipolar & Bipolar
Holding Torque Range: 39.23-185.35 Ncm
Motor Length Range: 42.5-76.5 mm
Our NEMA 23 hybrid stepper motors from our 56R series are standard, round-bodied designs ideal for low torque applications requiring lower inertia and higher speeds. The unipolar motor range consists of 4 models with either 49 Ncm or 59 Ncm torque.
View the 56R Series product datasheet for detailed specifications and performance data.
Phase: Unipolar
Holding Torque Range: 49 or 59 Ncm
Motor Length Range: 51 or 56 mm
The NEMA 24 stepper motors from our 60Q Series are the preferred choice for applications requiring high inertia. Our NEMA 24 motors are slightly larger than our standard NEMA 23 motors, and they offer higher torque and more precise positioning.
Unipolar torque range from 98 Ncm to 206 Ncm
Bipolar torque range from 137 Ncm to 265 Ncm
Available in 3 motor lengths
Check out the 60Q Series product datasheet to see the Speed-Torque Performance Curve and specifications of the 60Q Series.
Phases: Unipolar & Bipolar
Holding Torque Range: 98-265 Ncm
Motor Length Range: 54-85 mm
The NEMA 16 stepper motors from our 39Q series are designed to be compact and slim, making them ideal for space-critical applications. They are available in 2 powerful torque options, and are housed in 25-mm or 34-mm motor bodies for efficient motion control.
View the 39Q Series product datasheet for further details.
Phase: Bipolar
Holding Torque Range: 13 or 18 Ncm
Motor Length Range: 25 or 34 mm
Integrated Stepper Motor System – Motor Customizations | Shaft Modifications | Electrical Modifications
Our stepper motors can be integrated with different configuration options suited for a diverse range of motion control. In addition, customization of the motor windings, shafts, leads, and connectors are available for our hybrid stepper motors. All modifications are simple, maintenance-free, and ensure a longer lifetime of operation.
Advanced motor customization capabilities include:
Machining for encoders
Flywheel
Mounting bracket
Leadscrew
Pulley and gear
Damper and gear
Shaft Type : Single Type, Double Type, Single Geared Type, Double Geared Type
Our hybrid synchronous stepper motors can be controlled in full-step, double-step, and half-step drive modes. They can also be paired with micro stepper controllers for smoother, more accurate control over shaft position and finer resolution.
HB Stepper Motor Applicable Industries 
Our HB stepper motors have been supplied to manufacturers in the following industries:
Hybrid Synchronous Stepper Motor Manufacturing Site and Client Base
Our hybrid synchronous stepper motors are manufactured in our facilities in South Korea. Our manufacturing facility houses state-of-the-art machinery for end-to-end production, from machining precise motor components to final assembly. Moreover, our facility's strict adherence to quality control and assurance procedures since 1978 has earned the confidence from the world's leading manufacturers, including Samsung Electronics, Xerox (Korea & UK), Hyosung TNS, Sindoh, HP (USA & Singapore), Olivetti (Italy), Nidec (Japan), MMI System/Seagate (Singapore), Canon (Korea), LG CNS, and Pactra.
We provide standard and customized solutions to OEM and custom machine builders in low to high volumes. Explore our complete product portfolio in our 1.8° hybrid stepper motor catalog. Or, contact LPR's expert consultants so that we can help you find the best hybrid stepper motor for your requirements.
NEMA 17 and NEMA 23 Stepper Motors for PSP Dental Scanner
NEMA 17 and 23 Stepper Motors for Intraoral Scanner and X Ray Film Scanner | 42Q Geared Series
Background
Before our long-term client became a leader in PSP scanner manufacturing, they needed a reliable stepper motor supplier to overcome the limitations of standard, off-the-shelf stepper motors. Their supplier also had to deliver reliable lead times and product quality within the medical imaging device's size and weight constraints. Moreover, their chosen manufacture had to maintain product affordability, as the PSP x ray scanner had to be accessible to the average dental clinician.
Our partnership, which started over 15 years ago, has been integral to this digital x-ray machine manufacturer's global market success.
Digital X-Ray Machine: Motor Actuation Challenges
Our medical OEM client was developing a desktop dental scanner that utilized phosphor plates in the clinical settings. While dental PSP scanners are now common, due to their compact size, light weight, convenience, and affordability, the digital diagnostic imaging was still a novel commercial technology at the time. As a result, our partnership with this client started from scratch, without an existing stepper motor model or supplier for their new desktop x-ray scanner.
Servo Motors vs. Stepper Motor for Desktop Dental Scanner
Our OEM client found that mass-produced, standard stepper motors led to vibration and noise in these lightweight scanners, which would hinder their commercial success with clinicians. However, servo motors were not an adequate alternative, as their higher price point would increase the overall price of the digital dental scanner for end users.
Moreover, unlike stepper motors which have built-in position sensors, servo motors require an additional encoder or sensor to track actuation position. This would require a larger footprint for the desktop dental scanner, thereby compromising its commercial appeal.
It was clear that stepper motors were the superior choice for digital x-ray scanners to servo motors, but standard motors were insufficient for our OEM client's needs. The intraoral scanner manufacturer came to our stepper motor manufacturer for a custom developed solution that delivered high-quality performance with long service life.
Custom Engineering and Manufacturing for Medical Imaging OEMs
Collaborative Product Development
Unlike our optometry equipment client, this intraoral scanner manufacturer did not have existing stepper motor suppliers or models for their PSP x-ray scanner. As such, we engaged in a collaborative design and development process to customize the perfect stepper motors for our client's medical imaging devices from scratch. Eventually, this client's dental intraoral scanner utilized a custom version of our NEMA 17 42Q geared stepper motors.
Currently, our OEM client's PSP scanner is also one of the smallest in the industry, with a smaller surface area than leading PSP scanner brands, making it one of the most attractive to end users.
We continued our collaborative development with our medical imaging OEM, as they developed other computed radiography (CR) scanners for veterinary and mammography applications. These later developments used a customized stepper motor from our NEMA 23 series.
From Development to Manufacturing Partner
Once the custom motors were developed, we have been working with this client as their primary manufacturer for NEMA 17 and NEMA 23 stepper motors. The easy transition from development to manufacturing was made possible by our reverse engineering and R&D capabilities, as well as our reliable lead times that were undisrupted, even during the pandemic.
These capabilities benefit other partnerships in a different manner, in which we replicate the existing motor performance of their former supplier. Then, due to the reliability of our stepper motor performance, manufacturing lead time, and service life, these clients often make us their primary stepper motor supplier.
LPR Global's stepper motor manufacturer resolved the priorities of motor performance (low noise and vibration) and reliable manufacturing supply, while maintaining overall product affordability and competitive specs. As a result, our digital x-ray scanner OEM now claims the largest market share of the regional computed radiography industry, with clients in North and South Americas, the Middle East, Europe, and Asia.
With decades of long-term partnerships with medical imaging OEMs, LPR Global's stepper motor manufacturer has built a reputation for collaboration, reliability, and product performance. For more information or price quotations on our stepper motors, reach out to speak to our dedicated product manager.
Stepper Motors for Automated Document Feeders
NEMA 23 Stepper Motor for Automated Document Feeder Applications | 56Q Geared Series
A Japanese global printer and photocopier machine manufacturer looked for a reliable, long-term partner to manufacture the NEMA 23 stepper motors in their ADFs (Automated Document Feeders) when total in-house production became too costly. After a collaborative process of co-designing and testing our custom stepper motors with our engineers, the manufacturer made us their exclusive supplier for stepper motors.
The client first approached us for a consultation with our design engineers. They were looking for NEMA 23 rotary hybrid stepper motors with a positioning accuracy of under 5% for their ADFs. The accuracy in motion control was required to push and pull documents through the scanner.
Our engineers proactively managed this project by co-developing custom motor specifications that were perfectly fitted to the client's ADFs. Our engineers considered several factors, including ADF type, paper sizes, and machine operating speeds. Moreover, from our experience in printer and scanner applications, we knew that the ideal holding torque for the client's ADFs is between 0.1Nm and 0.5Nm.
We used the standard NEMA 23 hybrid stepper motors from our 56Q series as our baseline design. Then, from the standard model, we customized the housing design and holding torque to 0.4Nm. We happily supplied custom stepper motors without regard for the client's order volume, which was small at the beginning. Before expanding production, we provided samples of the custom hybrid stepper motors to our client, so that they could observe and test the performance in their automated document feeders to satisfaction.
Our custom stepper motors excelled in our client's performance tests on our first design. Likewise, we hold a perfect track record in satisfying our clients' specific needs on our first iterations of custom stepper motor designs.
Check out NEMA 23 Stepper Motor 56Q Series product datasheet to get more information about its ranging torque speed curve. Or, contact us for more information on placing an order for custom hybrid stepper motors.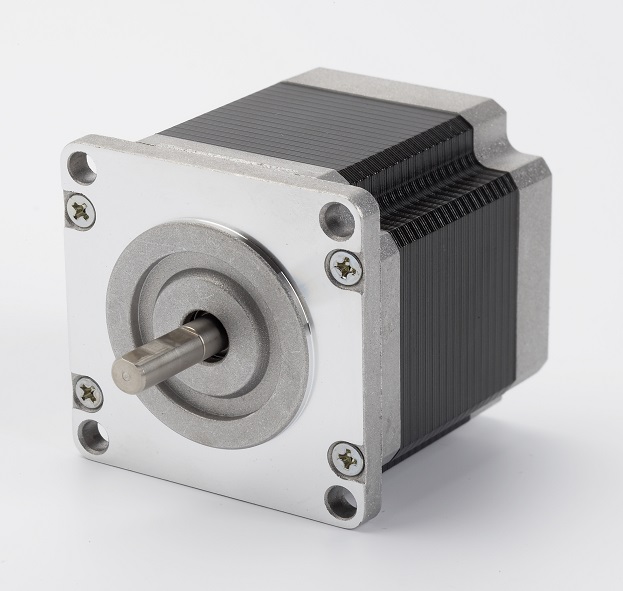 Stepper Motors for Optical and Optometry Equipment
NEMA 17, 23 and 24 Hybrid Stepper Motors for Applications in Medical Imaging Equipment |
42Q Series
Background: As a global leader of optical imaging scanner manufacturer, our client was looking for a stepper motor manufacturer whose expertise, efficiency, and accommodation would make for a valuable long-term partner as they developed new devices and expanded their product range.
Challenges: An award-winning optometry and ophthalmic medical equipment manufacturer needed a custom stepper motor supplier for their new product developments; a new supplier had to meet their current stepper motor quality made by a Japanese manufacturer at lower cost.  Further, the optical device manufacturer had many R & D projects, which required engineering support and customization from a stepper motor manufacturer. However, their stepper motor supplier at the time was unwilling to support the client's R & D projects.
LPR Global Solutions: Initially our 2-phase hybrid stepper motors, NEMA 17 from our 42Q series, were selected as a replacement for their existing hybrid stepper motors. The client was able to inspect and test our stepper motors in their own equipment and production facilities. We were successful in replacing the client's stepper motor needs on our first attempt, which helped gain our client's trust in our quality and experience.
New product design and collaboration for medical imagining precision equipment
Our subsequent solutions were more interesting, as our engineers collaborated with the client to design and develop new precision optometry equipment. Due to our experience in the application of stepper motors in the medical field, this collaboration has been prolific in producing over 10 ophthalmic and optometry equipment for the client. Moreover, our involvement from the design stage helped our client save time and costs in their product development funnel. Our custom 2-phase hybrid stepper motor solution for this client expanded to include our NEMA 17, NEMA 23, and NEMA 24 stepper motors.
This relationship has since evolved into a 20-year long-term partnership that continues to produce a range of industry-leading optometry equipment for this client, who is the leading and most trusted brand by medical professionals in 114 countries.
Stepper Motors vs. Servo Motors for Medical Imaging Equipment and Devices
Our client chose hybrid stepper motors over servo motors for their ophthalmic and optical devices for multiple reasons.
Superior position control – Stepper motors provide the unique capacity to control motor position without a separate encoder or position sensor, which lowers production costs. In contrast, servo motors require an additional encoder or sensor to identify the motor position, which makes them the less cost-efficient option. Finding high-quality, cost-efficient custom motors was important for this client, as they produced end-user medical devices.
High Holding Torque – Stepper motors have superior holding torque, especially when compared to servo motors. As a result, they are ideal for applications in precision equipment and vision system positioning such as our client's ophthalmic equipment, which require standstill stability.
Smooth, Consistent Motion – Our hybrid stepper motors operate in half-step rotations and work with micro-stepping drivers for smoother motion and more consistent torque production.
With decades-long expertise in stepper motor applications in the medical field, we offer efficient custom solutions for your equipment development. We are happy to help you find the right stepper motor for your equipment, even in small order volumes. Please contact us with specifications for your own custom hybrid stepper motor needs.
Check out NEMA 17 Stepper Motor 42Q Series product datasheet to get more information about its ranging torque speed curve. Or, contact us for more information on placing an order for custom hybrid stepper motors.
Copyright © 2023 LPR Global. All Rights Reserved. 2-Phase Hybrid Stepper Motors.