Automotive Interior Trim Production Equipment
IMG Thermoforming, Vacuum Forming and Laminating, Press Forming, Heat, Hot Air and Ultrasonic Joining Machinery
LPR Global delivers turnkey inline IMG thermoforming and vacuum forming equipment from design and prototyping to machine production, operator training, and after sales support.
With more than 25 years of experience, our strength lies in understanding of technologies and processes involved in the production of door and side trim, headliners, floor carpet, instrument panel, roof systems, door handles, and trunk trim.
Available technologies include In-Mould Graining (IMG) thermoforming, vacuum forming and laminating, press laminating, heat and infrared joining, edge folding machinery, complete trim forming assembly production lines.
Automotive Interior Production Machinery | Headliner | Trim
IMG Vacuum Thermocovering | Laminating | Edge Folding
Working in close cooperation with clients, LPR Global provides complete solutions for automotive interior trim parts production.
LPR Global offers extensive expertise in the fields of forming and joining technologies. Equipment patents include: skin feeding device involving variable clamp for thermoforming machine, skin foam removing device, multiple pallet carrier for car panel, riveting device, vacuum forming door trim stacking device.
Hot staking machine, headlining forming machine, vacuum thermocovering machine, upper trim bond spray & oven conveyor, door trim fold back machine, console ultrasonic staking machinery comply with CE standards.
Our clients include Faurecia, Hyundai Mobis, Visteon, Johnson Controls, Kasai, IAC, Shigeru. Equipment meets global quality and safety standards: CE, OSSA, GOST-R, TUV, as well as global client's internal safety requirements. Equipment and machinery are installed in 22 countries; 42 global customers.
Applications | Automotive Interior Trim Parts
Typical fields of application include interior trim, instrument panels, door and trunk trim, floor carpet, bumper mounting, headliners, center consoles, package trays, glove compartment, and wheel arch liner.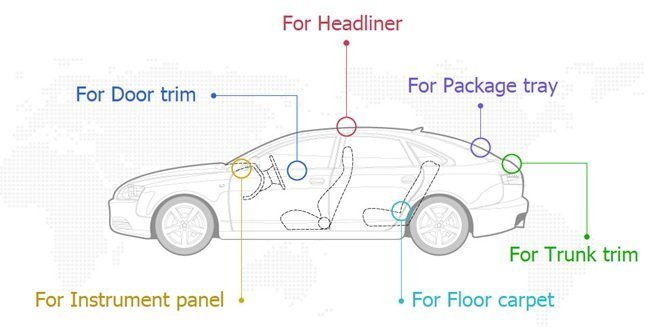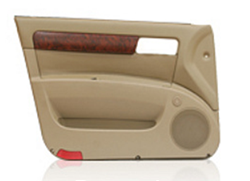 Door Trim | Automotive
In-mold Graining (IMG) Vacuum Forming
Vacuum Forming Machine
Edge Folding Machine
Heat Joining | Hot Air Joining
Infrared Joining | Ultrasonic Joining
Assembly Conveyor
Punching | Trimming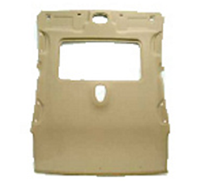 Headliner | Automotive
Edge Folding Machinery
Forming Line (PU Wet | Dry Part)
Edge Folding Machinery
Hot Melt Spray
Waterjet Cutting Machinery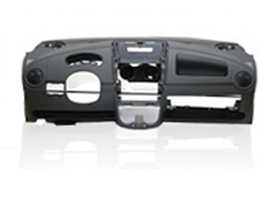 Instrument Panel | Automotive
In-mold Graining (IMG) Vacuum Forming
Vacuum Forming Machine
Hot Air Joining Machinery
Knife Trim and Piercing Machine
Main Equipment Types | Automotive Interior Parts Production Machinery
IMG Thermoforming Vacuum Forming Equipment
This process provides the best grain definition on the molded part as the heated sheet material is imprinted / vacuum formed into an upper female grained mold surface. Allows to simultaneously combine different processes: vacuum forming and laminating.
Available Types
Single station / Inline station (Sheet loading / roll loading)
Supporting Equipment 
Cutting and trimming / Pre-edge folding
Applications 
Door trim, Instrument panel, ABC pillar
IMG Thermoforming Machine, B-Series
Application: Door trim, Instrument panel two cavity
Skin Loading: Automatic sheet loading
Tool change: Automatic tool and foil change / die lifter and roller
Mold: Male, Female IMG
Skin size: Min. 1000 x 750cm / Max. 2250 x 1250cm
Vacuum Forming and Laminating Machinery
Vacuum forming and laminating machines are used to form automotive interior skins over numerous injection mold plastic substrates. Guarantees optimum quality of a finished product. Relatively non-complex design of the machine allows easy maintenance and installation.
Available Types
Single station / Inline station (Sheet feeding / roll feeding)
Supporting Equipment 
Vacuum forming and laminating
Vacuum forming and laminating with IMG process
Cutting and trimming solutions
Applications 
Door trim, Instrument panel, ABC pillar
Press Laminating Machinery
Used for low elasticity leather materials which cannot be processed using vacuum laminating. Allows automatic tool change. Non complex machine structure.
Available Types
Pneumatic press / Hydraulic press
Supporting Equipment 
Glue spray
Edge folding
Drying oven
Applications 
Center panel, Package tray, ABC pillar, Armrest
Edge Folding Machinery
Edge folding machine finishes laminated, back injection molded, vacuum molded auto parts. It folds the skin to the back side to hide the cutting part from being shown. Ideal for high capacity production levels.
Available Types
Single station / multi station machine
Bond type / bondless type
Simultaneous folding type (skin + substrate)
Supporting Equipment 
Vacuum laminating and press lamination
Bond gluing machine
Applications 
Door trim, Instrument panel, Headliner, ABC pillar
Assembly Line Project Experience | Automotive Interior Parts Production Machinery
By using fully automated interior parts assembly lines, companies are able to increase production volumes without unnecessary manual loading and unloading processes, reduce cycle time, and better optimize processes and cross production. It also allows easier maintenance and improves operator's access to the line.
Design capabilities include CATIA, AUTO CAD, CAE, SOLID WORKS, INVENTER.
Automated line stations include roll feeding system, pre-cutting / sheet feeder, mold change rotary table, automatic tool changing, and air cooling system. Data traceability is embedded by using bar code reading system.
Types of the assembly lines available include free flow conveyor, oval conveyor, and transfer type.
Headliner Forming Line
Custom built headliner production line is developed for various materials and production methods. Hot melt application can be done on the skin before or during the roll feeding. Machine stations include: roll storage, sheet centering + heating area, forming station. Tool changing option is specified by a client and can feature an automatic tool changing station with a preheated preloading station.
Available Types
PU wet type
PU dry type
SUPERITE type
Fully automated / Semi automated
Layer cutting and feeding: Automatic
Machine cycle time: 45 seconds
Skin size: Max: 1700 x 3000cm / Min: 1200 x 1400cm
Material
Headliner Wet Line Production Process
Allows to use separated and layered materials when layers need to be combined by roll coater with a process of water PU spray coating. Features: up to 4 lamination layers; hot forming process available.

Carpet | Package Tray Forming Line
After automatically loading thermoplastic materials into the oven, materials are transferred to the forming zone and pressed on a cooling mold. Tray forming line applications include carpet, package tray, trunk trim, and thermoplastic parts. This line is developed for various materials, production methods, and volumes.
Transfer Method
Mesh belt oven
Side clamp oven
Mesh pallet oven
Frame free flow oven
Heater
Ceramic heater
Sheath heater
Halogen lamp
Hot plate
Hot air
Automotive Soft Trim and Acoustic Molds and Checking Fixtures
We supply automotive interior acoustic trim molds and checking fixtures for headliner, carpet and flooring, dash outer, dash inner, underbody, hood applications.
Visit Thermoforming and Compression Mold and Checking Fixtures Webpage.
Ultrasonic | Thermal Radiation | Infrared | Hot Air Joining Machinery
Heat Joining Machine
Riveting process allows forming or reforming of thermoplastics. This procedure only used for point-shaped or segmented joints.
Available Types
Single station / Inline station
Supporting Equipment
Applications
Door trim, Instrument panel
Hot Air Stacking Machinery
Manual and Automatic Hot Air / Cold Stacking machines are used to retain skin integrity for various angles and at different positions. This solution is proven to be economical and efficient applied by global automotive interior trim manufacturers.