Seat Assembly Equipment
Automated Seat Assembly Lines | Frame, Recliner, Cushion, Track | Testing Equipment
Turnkey supplier of automated seat assembly lines and test systems for seat frame, recliner, cushion, and seat track.
Capabilities include design, development, manufacturing and technical support of seat assembly lines and power seat testing equipment.
We specialize in fully automated assembly lines with a high level of automaton featuring multiple pallets for a quick seat model change and a minimum number of operators required.
All lines are equipped with in-line and end of line inspection for NVH related defects of power seats.
Automated Seat Assembly Lines | Seat Testing Equipment Overview 
Custom designed automated and semi- automated seat assembly lines for the production of seat recliner, track, cushion, frame. Manufactured in S. Korea, complete lines meet clients' requirements for automation level, complexity of testing systems, cycle time, and programming.
We provide PLC and programming, light curtains, assembly, try outs, installation, start up and extended mass production support when required, as well as complete after sales support.
Our design patents for seat assembly equipment and seat testing equipment include seat torsion spring assembly, seat clamping equipment, actuating force measuring device, seat height pumping spindle, access device for inspection & assembly of electric units, lightweight jig for seat model change, peripheral device for bolts used for seat assembly.
Being a main supplier of seat assembly and inspection equipment to Hyundai, complete seat assembly lines are also installed at DAS, Hyundai M Seat, Hyundai Dymos, Adient, Johnson Controls, Lear, Faurecia.
Seat Mechanism Assembly Equipment | Lines
Lines can be supplied fully automated or semi-automated with a capacity to produce several seat part models. Automated seat assembly equipment consists of complete automatic assembly, transport, handling, testing, and production process, traceability solution. The semi- automatic lines allow cost reductions and improve throughput of automobile seat parts.
Seat mass production lines are built based on the required takt time which guarantees precise sequence of production and testing processes.
For modern seat assembly plants, we offer advanced assembly automation solutions to synchronize the line with specific car build schedules and automate seat transferring from the seat conveyor to the main assembly line.
Seat Cushion Assembly Line | Project Experience
We have supplied fully automated lines consisting of the following processes and stations: free flow conveyor, jigs pallets, balance and cushion spring assembly, grease injection; testing stations: electrical components testing, cushion slide, height, fool proof testing stations, recliner operating force, soundproof; PLC, POP systems, checking fixtures.
Automated cushion frame seat assembly line for power seats is equipped with part handling solutions with robots transferring components directly from and to processing centers. Using RFID tracking, PLC tracks pallet movements and seat serial numbers associated with pallets at the initial station.
The line has multiple HMIs for maintenance purposes and downtime reduction with an option to stop sections of the line for repairs and specific production requests.
Automatic preventive maintenance alert system has been implemented to block equipment until specific task is complete.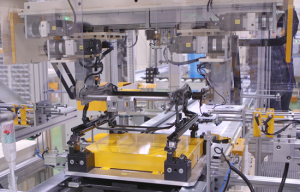 Seat Assembly Lightweight Jig
Pallet jig for automotive seat assembly lines with a layer of aluminum foam used to reduces weight of the jig and allow quicker jig and seat assembly replacement. Jig's main application is to allow smoother seat model change on a pallet. With standard weight of jigs used in the automotive industry reaching up to 85kg, our lightweight 45kg jig reduces line noise, extends lifetime of the conveyor, shortens cycle time and, mainly, shortens tool change over time.
In-line Seat Testing Equipment Overview | End of Line (EOL)
Focusing mainly on seat mass production testing equipment, the necessary NVH related defects and mistake proof equipment is installed at each station of fully integrated or semi- automated lines.
End of Line (EOL) testing is performed at each step of the assembly process verifying all electric and mechanical components of the seat.
Power Seat NVH testing equipment
Steering Wheel Electric Parts & Noise / Vibration Inspection Equipment
Seat height defect testing
Seat slide testing
Passenger seat sensor testing (for airbags and seatbelts)
Seat ventilation inspection
Bolt + Electronic components inspection equipment